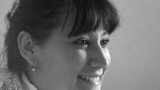 GISELA SOLEDAD BRACHO
LIC. EN BIOTECNOLOGIA
Gisela Bracho has graduated with a degree in Biotechnology at the Universidad Nacional del Litoral (UNL). Her thesis, titled "Genetic variability detection in Cercosporasojina.Study of the activity of fungicides compounds on regional isolates", was conducted in the department of General Microbiology (FBCB, UNL).
Gisela also made research activities in the Department of Clinical and Quantitative Biochemistry in FBCB, UNL to develop a method for the determination of citric acid in urine by Capillary Zone Electrophoresis. In addition, she worked in microbiological quality control area for food industry.
In Laboratorio Horian I+D Gisela is assisting in chemical area, specifically for the synthesis and purification of molecules of activated polyethylene glycols (PEGs) and conjugation reactions.